As of December 31, 2014, Invexans' subscribed and paid-up capital was represented by 22,422,000,000 shares. As of that date, the Company maintained a total 1,986 shareholders in its records.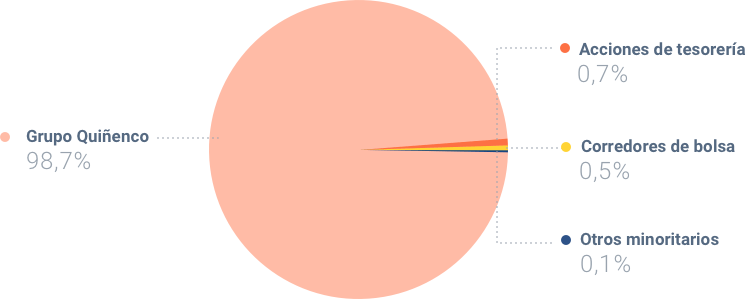 During 2014 the Company made a capital increase, where the controlling shareholder subscribed his total interest, resulting into an increase of its interest in Invexans from 65.92% as of December 31, 2013, to 80.45% at the end of year 2014. For further information, please refer to the "Shares Trade" section of the "Corporate Data" chapter of this document.
During December, 2014, the controlling group, Quiñenco, launched an IPO that ended in January. After this process the controlling group maintained a 98.3% interest.
---
* Quiñenco S.A. has a 57.2% direct interest in Invexans (12,821,375,277 shares), as well as indirect through its subsidiaries Inversiones Río Azul S.A., 10.7% (2,399, 403,510 shares), Norte Verde S.A., 6.4% (1,439,642,105 shares) and Inversiones Río Grande S.p.A., 6.15% (1,378,984,400 shares). There are two related companies that are Invexans S.A. shareholders: Inversiones Consolidadas S.A., related to the Director Andrónico Luksic Craig with 0.00008% (18,286 shares) and Inversiones Carahue S.A., related to Ms. Paola Luksic fontbona, with 0.00003% (6,734 shares). None of the Directors (except for Mr. Andrónico Luksic Craig) or the main executive officers of the Company has any shareholding interest in Invexans.